Marble Runs, Mechanisms and AI Judges
Fun for the whole family! Whether you're 6 or 96, you can flex your creativity to build an awesome marble run. Start with simple ramps and traps, or follow our print-and-cut plans to make marble flippers, servo-activated starting gates and even train a full-fledged AI judge to impartially tell you the winner of each race! Scroll down for all the project plans.
We teamed up with Make Magazine's Family Maker Camp to live stream 2 sessions to get you started. Tune in to see us demonstrate building the mechanisms, adding electronics to make them move and light up. The second video also shows you how to use your webcam to train an AI to activate a second relay race when enough marbles complete the first run.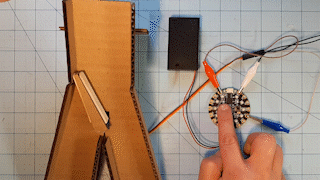 Add electronics and a micro controller to your Lane Changer to make it move at the press of a button!