Last week's Clock Making Hackathon was an incredible success thanks to YOU, our amazing community. We set out to stand in solidarity with Ahmed Mohammed who was arrested last month for bringing a home made clock to school. We wanted to acknowledge that racial stereotyping exists, and we wanted to raise awareness for the fact that it negatively effects the lives of many. We also know that maker and tech communities can be especially lacking in diversity, and at STEAMLabs, we believe that the Maker Movement is more creative, resilient and interesting when made up of all kinds of people making all kinds of things.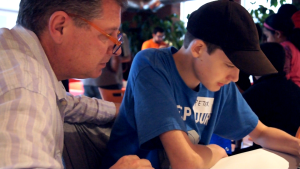 Thanks to over 30 participants and a fleet of volunteers who rose swiftly to the occasion, we were able to pull of a last minute free Clock Making Hackathon in that spirit. We had so much fun helping everyone build their clocks – and you can see the variety of designs that came to life in the video above!
We were also thrilled to see journalists from the CBC and the Toronto Star who came out to see this event and helped us share our message with the world.
Several different organizations and dozens of people came together to make this reality, and we'd like to say a special thank you to some of our strongest supporters:
Mozilla, who provided space for the event
Hive Toronto, who are always supportive of our endeavors
Rapee and Linda for providing loads of snacks and support
Matt Price and his crew of UofT students who came out to help Makers learn
Justin Wilimsmyer and his son for stepping in to help without a moment's hesitation
Ryan Burwell for helping us fuel our hackers
Particle for donating components
And of course Hatch Canada, who happily jumped in to support our pizza fund. Hatch Canada runs programs teaching kids to code and is running a free video game hacking event for kids in October–check it out!
People and organizations like these make what we do at STEAMLabs possible and we can't wait to work with them again in the future.
Check out these pictures from the event: