Walking into the Exhibit Hall of the 65th International Astronautical Congress at the Metro Toronto Convention Centre, you were greeted by the who's who of the space industry. Your eye jumped from SpaceX simulation chairs, to a model of the Canadarm, to a huge inflated model of NASA's human space capsule. This conference brought together leaders of the space exploration community from around the world including the heads of all space agencies and companies.
At the back of the Exhibit Hall was a walled off area called the International Student Zone and on Friday, Oct. 3 there was a dull roar emitting from this space. Over the course of the day, 200 grade 6 students from across Toronto participated in an outreach event sponsored by the International Space Education Board – a group founded by NASA, the Canadian space agency, the European Space Agency, the Japan Aerospace Exploration Agency. Every year at the International Astronautical Congress this group of space education leaders host an outreach event and this year, for the first time, local organizations helped in this task.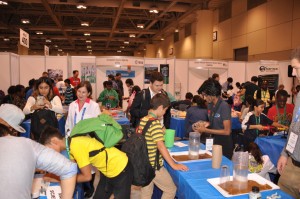 Marianne Mader, STEAMLabs co-founder and Planetary Scientist, was the local point of contact and worked with NASA to plan a pop-up event. Seven organizations including Mad Science, TDSB, MakerKids, Kids Learning Code, BYTE, the Centre for Planetary Science at Western University, and Story Planet, volunteered to host stations and trained 60 graduate students from around the world in how to run open-ended, hands-on activities. Kids were given passports and encouraged to visit whatever stations they chose.
Near the entrance to the outreach event, students could try a space simulation chair from the Marc Garneau Collegiate Institute and experiments designed by Mad Science demonstrating some challenges of living and working in space. Kids could learn how to be a meteorite hunter and make impact craters at the CPSX station. MakerKids invited the students to participate in an asteroid capture mission. Kids created their own spacecraft that was mounted on pre-built remote controlled bases and then they steered their spaceship to try and capture an asteroid (simulated by chocolate chip cookies). The kids enjoyed 'mining' their asteroids for chocolate chip resources! With Kids Learning Code, grade 6 students used 3D printers to design spacecrafts and aliens using Mesh Mixer 3D software. Kids became directors of their own 5 second claymation movies under the direction of BYTE (Black Youth in Tech Education) and created original comics about alien crash landings with Story Planet.
"Can I have your autograph?" became a common phrase heard from the kids. Awesome. In the eyes of these students the STEM leaders were elevated to the status of rockstars! How amazing is it for kids to value scientists as celebrities? The space agency education heads, TDSB teachers and STEM coaches joined in on the fun – everyone learning through play!
After the event, Donald G. James, NASA's Associate Administrator for Education thanked all the educators and graduate students for the event and for teaching STEM. He remembers all of his primary school teachers, and their passion and enthusiasm was a big part of why he got interested in science and space! He presented a certificate to each organization to show NASA's appreciation.
This event could not have been possible without the Hive members' collective experience participating in previous Mozilla Hive Network pop-up events and the connections made between organizations. This model is an effective outreach approach that can be used in many settings – events, conferences or even in schools!