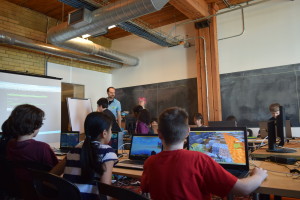 If you're a parent, or a teacher, or an uncle, or anyone else who spends a lot of time with kids, you probably won't be surprised to hear that our Minecraft Pro camp hit capacity–and even had a waiting list!
We have been completely overwhelmed by the positive response to this camp, and we've decided we want to bring this incredible experience to even more kids. So we're running a second Minecraft Pro camp this summer, from August 24th to September 4th.
As with our first Minecraft Pro summer camp, kids will get to choose their own projects and learn what they're interested in. We'll have break out education sessions to teach all kinds of Minecraft Pro skills, including:
Installing Mods
Server Setup
Redstone
Computercraft – programmable computers within Minecraft
WorldEdit – commands to create complex structures
Citizens – add NPCs and program them to talk and interact with players
Online behaviour
Minecraft making – cardboard Minecraft armour and weapons and creatures
Anything else kids request!
Kids can attend camp either for the full two weeks or for one week(you get to pick which week).
Does this sound like something your kids would love? Register now!
A limited number of scholarships are available for families with financial need. Please fill out the scholarship application form if you're interested.