About this Topic
Climate change is one of the most pressing issues of our time, and greenhouse gas emissions are a significant contributor to this global challenge. To better understand the impact of industry and modernization on the environment, the Greenhouse Gas Emissions Project offers students a fantastic opportunity to showcase and analyse the amount of CO2 produced by a province or even the entire country over the past 15 years, measured in kilotonnes. By exploring this data, students gain insights into the root causes of climate change and develop a deeper understanding of how we can work towards a sustainable future. Because of this, the Greenhouse Gas Emissions Project is a valuable tool for educating and inspiring the next generation of environmental leaders.
Where is the data coming from?:
Here you can find a collection of all datasets used in the projects below. This is the data in its raw form.
Create your own Data Visualization Project!
We've simplified the data above to make it more easy to understand! This simplified data is used to make the MakeCode for the sample projects below. You can use this simplified data to create your own projects too!
Science Spotlight Education Reference:
Want to learn more about this topic? Check out some Science Spotlight Research papers written by Canadian Science Centres and Museums in collaboration with the GenAction Initiative!
Data Visualization Projects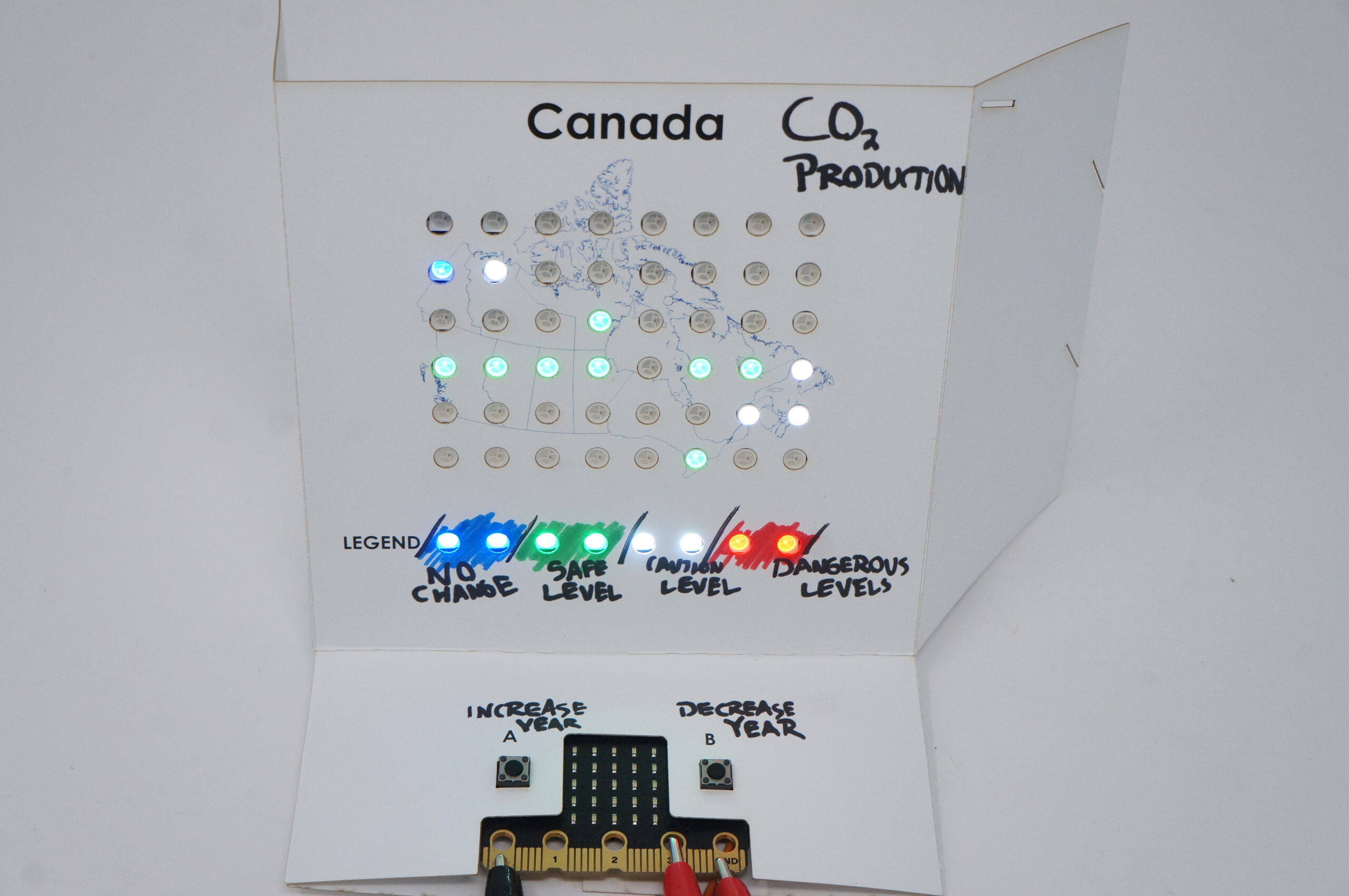 NEOPIXEL GRID PROJECT
Green Gas Emissions
Project Description:
Using a Neopixel Grid, students will be able to display the amount of carbon dioxide produced by a province or Canada (in kilotonnes). Using the A and B buttons, you can view this data over a ten year period between 2009- 2020, allowing for observations and discussions about how these levels change over time. As you scroll through the years, the lights of the neopixel will change to display the difference in C02 emissions over the previous year, with the four different colours representing a rising scale that indicates whether or not the change in amount of C02 produced is of a safe or dangerous level.  
START BUILDING! Green Gas Emissions Instructions
Legend
Using the legend on the side of your cardstock activity, orient your Neopixel grid so the lit up row lines up with these holes.
LED 1 & 2

– Blue = No Change from Previous Year (change of less than 2000 Kt)

LED 3 & 4

– Green = Safe Levels – Levels of C02 decreased from previous year

LED 5 & 6

– White = Cautionary Levels – 

LED 7 & 8

– Red = Dangerous Levels –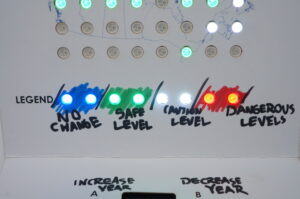 Button A 
 increments to the next year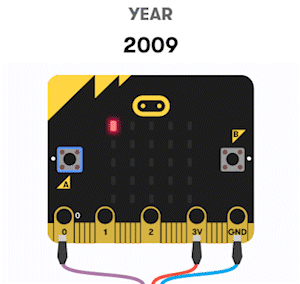 Button B 
goes to the previous year 
Make Code: 
Electronic Kit: https://steamlabs.ca/data-visualization/free-kits/#activity
Neopixel Grid Setup:
Hardware Setup Support: https://steamlabs.ca/data-visualization/hardware/#activity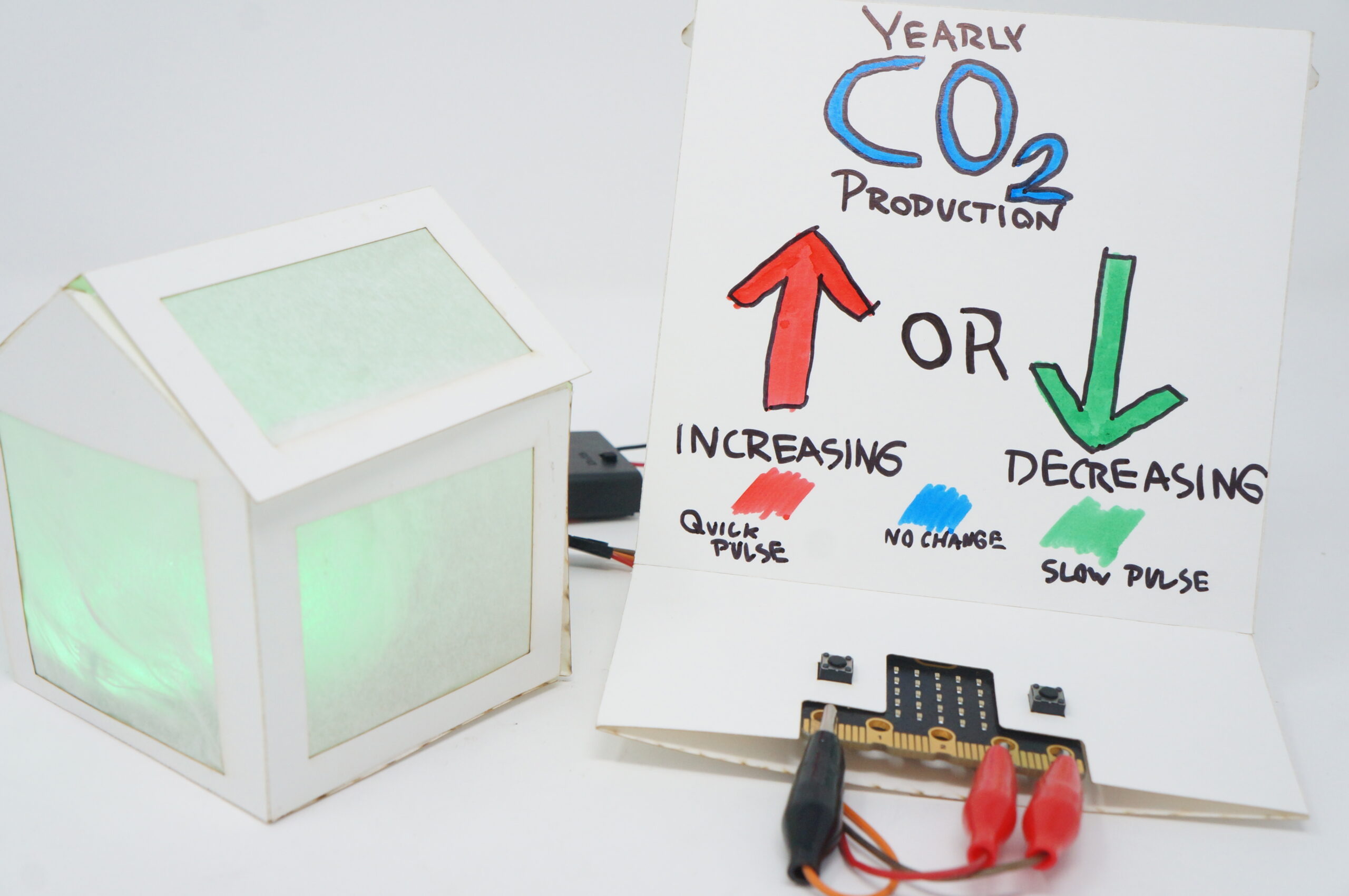 FAIRY LIGHTS PROJECTS
Green Gas Emissions
Project Description:
This project enables students to use data and a bit of their own creativity to illustrate the increase or decrease in C02 emissions over each year. Scroll through the data taken from across Canada between 2009 and 2018, and tell a story about the impact of human activities on the environment and the journey towards developing sustainable solutions.
 With the Neopixel Fairy Lights, this project relies more on the creative design of the students – we designed a cardstock greenhouse with tissue paper walls to show off the flashing fairly light strip and tie it back to Greenhouse emissions 
START BUILDING! Green Gas Emissions Instructions
Legend
Red – Quick Pulse – C02 emissions increased
Blue – Moderate Pulse – C02 emissions stayed near the same levels
Green – Slow Pulse – C02 emissions decreased 
Light blue = moderate
Blue = high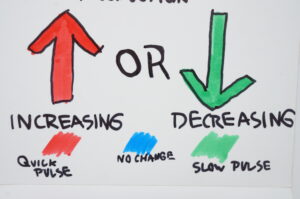 Button A 
Scrolls forward through the years
Button B 
Scrolls backwards through the years
Make Code: 
Electronic Kit: https://steamlabs.ca/data-visualization/free-kits/#activity
Fairy Light Setup:
Hardware Setup Support: https://steamlabs.ca/data-visualization/hardware/#activity