Future Temperature Change in Different Climate Scenarios
About this Data Set
This data shows the annual mean temperature of Canada and its individual provinces starting from the past (1976-2005), the immediate future(2021-2050), and our 2 possible futures (2051-2080) ("High Carbon" or "Low Carbon" Scenario).
Science Spotlight Education Reference: Coming Soon
Interested in getting a classroom kit for your students?: https://steamlabs.ca/data-visualization/free-kits/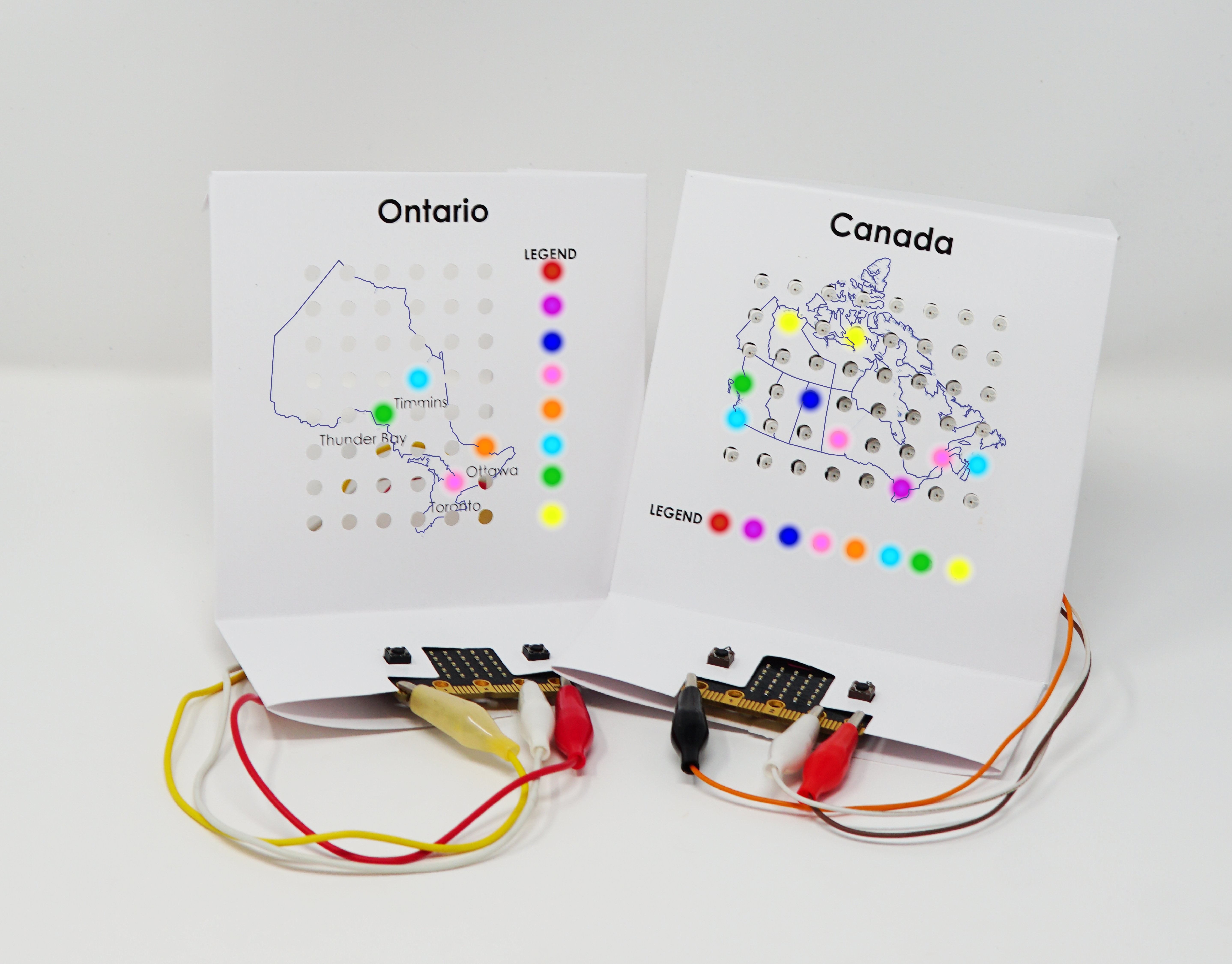 GREEN ENERGY FORECAST - Grid Project
Project Description:
Map of Canada with a grid of holes punched out all across Canada. 8×8 neopixel grid behind. Microbit below. Press the microbit button A to change from different carbon scenarios – low carbon, medium, high. Press the microbit button B to change from 1980, 2000, 2020, 2040 and 2060. The microbit red LEDs light up to show what you have selected. The bottom row of neopixels just light up so you can draw a legend for what the colours mean. Map could be province instead of Canada.
Make Code: 
Canada 

(Coming Soon)

Manitoba 

(Coming Soon)

New Brunswick 

(Coming Soon)

Newfoundland and Labrador 

(Coming Soon)

Nova Scotia 

(Coming Soon)

Prince Edward Island 

(Coming Soon)

Quebec 

(Coming Soon)

Saskatchewan 

(Coming Soon)

Northwest Territories 

(Coming Soon)

Nunavut 

(Coming Soon)

Yukon 

(Coming Soon)
Electronic Kit: Coming Soon
Download Print Cut PDF Template: Coming Soon
Hardware Setup Support: Coming Soon