---
UPDATE: Rey Doll Hackathon was a resounding success! A Globe and Mail videographer was there:
---
We're celebrating Family Day by hosting a Rey Doll Hackathon – where we'll help you transform a regular doll into a kick-butt Force-filled space warrior, using tools and materials at our community maker space in downtown Toronto.
Bring along your own doll (or we can supply a simple one for $5), and we'll help you transform her using our sewing machines, 3D printers, electronic/craft supplies, laser cutting, and wood working tools. You can even make her a mini LED-powered light-up saber!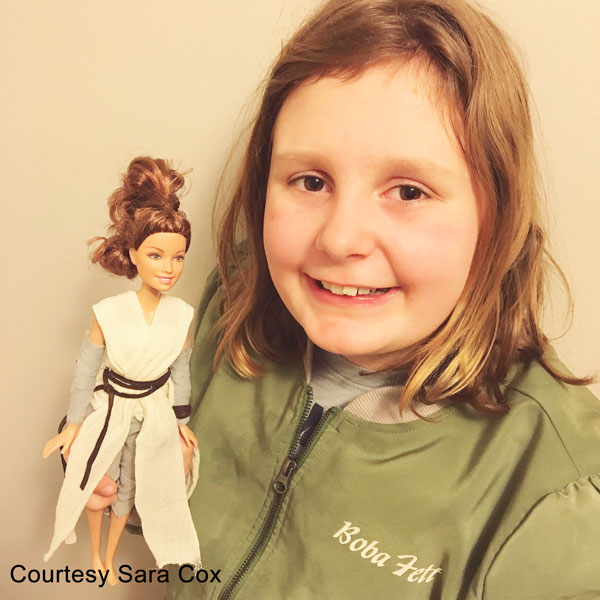 WHEN: Monday 15th February 10am-3pm (arrive before noon if you'd like to complete your doll in time!)
WHERE: STEAMLabs Community Maker Space, 49 Cameron Street (Queen & Spadina)
WHAT: Rey Doll Hackathon! We'll set up multiple tool stations (sewing machines, LED electronics, 3D printing, craft, etc.) so you can make your way around the space and transform your doll in to a space warrior with the help of our volunteer staff.
HOW MUCH: $25 per participant or $20 if you bring your own doll. Helpers (family and friends) come free.
WHO: This event is for everyone no matter your gender!
Note: this is a family event where we encourage adults to work alongside children. At the very least, children under 12 must be accompanied by an adult at all times.
Why Rey? In the aftermath of Hasbro's lack-of-Rey merchandise debacle, we've been inspired by other girls around the world who took matters in to their own hands by hacking together their own female space-mechanic-come-fighter figurines. We think that enabling girls (and boys!) to make their own female action heroes is the perfect antidote to a world that is timid to let go of gender stereotypes by including one female hero in a fleet of five action figures. We want to celebrate the Force that lies within all girls and women, and signal to marketeers that they're missing out on an opportunity to redefine gender for the better (while still selling tons of merch).
For enquiries contact info@steamlabs.ca
Would you like to volunteer? Awesome! Please send us your details here and we'll be in touch!