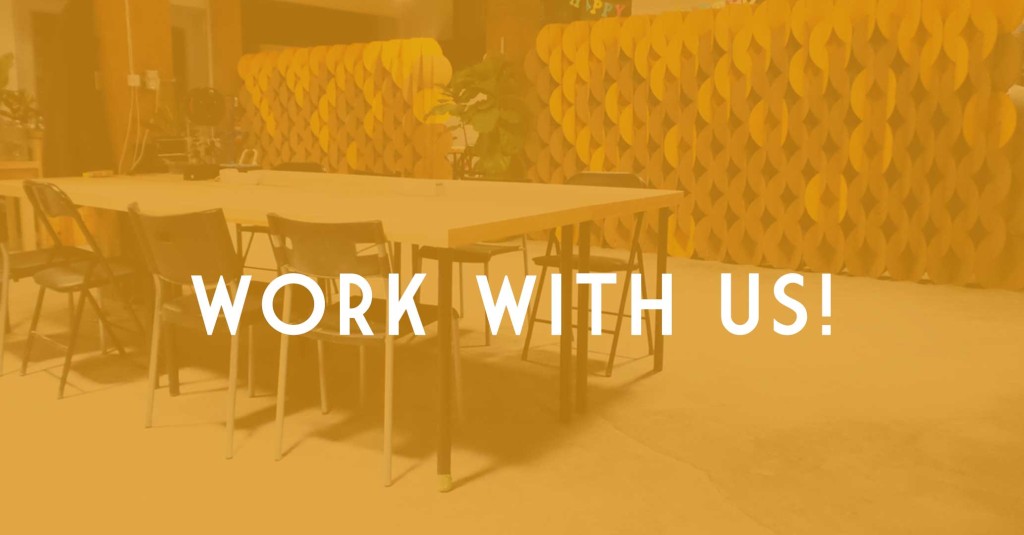 MAKER EDUCATOR, SUMMER TECH MENTOR | FULL TIME
Applications due: Rolling deadline, early applications encouraged
Target start date: June 2019
---
About STEAMLabs:
Steamlabs is a not for profit education-innovation organization creating science and technology literacy and access in science centres, schools, libraries and maker spaces through exploration and creativity. We believe that science and technology literacy and access enables our individual creativity, the decentralization of innovation, and the participatory co-creation of the world we want tomorrow.
Job Description:
Your passion is to help students develop creative, technical and personal skills through hands-on interest-lead learning. You have some technology skills, and/or some experience in teaching, mentoring and/or facilitating in hands-on environments.
You are a creative and energetic person who likes working with kids and young people, and enjoys enabling their weird and wonderful ideas come to life. You celebrate failures, are comfortable in controlled chaos, and value the process over the product. You're organized, flexible, and interested in growing your own learning and teaching practice.
Your job will be to assist in the mentoring of STEAMLabs summer camps, school visits and free community events such as festivals, school fairs, libraries and more. Your audience will primarily be younger students aged 6 to 12, but may also include older youth as well.
The topics you will be covering as a teacher are a mixture of physical and digital, and will include some of this list:
Minecraft

3D printing & laser cutting

Arduino

Electronics

Basic woodworking

Video game programming with Unity

HTML, Javascript and other coding

Adobe Illustrator

Art
Note that we do not require you to know all of these technologies already! The core skill required is one or more of these technologies or physical making or art. Alternatively, if you have experience teaching in a hands on making or artistic environment, this qualifies you as well. There will be many opportunities for you to learn new technology, mentoring and other skills on the job.
Our participants include people with diverse backgrounds. Special consideration will be afforded to applicants from these communities, or with experience working with:
Persons with disabilities

Newcomers to Canada (including refugees)

Indigenous peoples

Members of a visible minority

Members of the LGBTQ2 community

Women and girls
Work hours are 8:30 to 4:30 Monday to Friday. You will also be occasionally required at some weekend events in which case the weekday hours will be adjusted to keep to a 40 hour work week. Unpaid time off during the summer is negotiable for other commitments.
You will work at our makerspace located at our makerspace at 192 Spadina, and at other locations of our programs and events.
Please Note:
Canada Summer Jobs is an initiative of the Youth Employment Strategy, which is the Government of Canada's commitment to help young people between the ages of 15 and 30, particularly those facing barriers to employment, get the information and gain the skills, work experience and abilities they need to transition successfully into the labour market.
The program provides wage subsidies to employers from not-for-profit organizations, the public-sector, and private sector organizations with 50 or fewer full-time employees, to create quality summer work experiences for young people aged 15 to 30 years.
In delivering on these objectives, the Government of Canada aims to ensure that youth job opportunities funded by the program take place in an environment that respects the rights of all Canadians.
These youth summer work experiences represent important pathways facilitating future transitions to the workforce.
Principal Responsibilities:
Assist with STEAMLabs summer technology camps for kids and youth

Assist with STEAMLabs summer events such as Maker Festival

Collaborate with STEAMLabs staff to document and develop maker educational programming

Collaborate with the team to develop processes better processes and services

Complete other operational tasks that relate to your role (e.g. organization and sourcing materials)
Required Skills & Experience:
At least one technology, making or artistic skill

Teaching experience with kids in a hands on making or artistic environment
For those without the applicable technology and/or teaching skills listed in this job description, please see our other job description, "Summer Camp Mentor".
Bonus Skills & Experience:
Minecraft experience

C# coding with Unity

Experience developing/designing programs and activity plans

Experience with more technology, making or artistic skills

Knowledge of popular education, interest/project based learning, inquiry based learning, or other teaching philosophies.

Familiar with design software such as Adobe Illustrator or 3D design programs

Fluent French speaker. Some of our participants speak French as their first language.
Why work with us?
We're a small, agile team of friendly people with varied skills and experiences.

We're a relatively new organization, so there are still lots of ways to contribute to it's shaping!

There is plenty of opportunity to learn, grow and try new things.

The STEAMLabs Community (members, volunteers, program participants and otherwise) are awesome, and a pleasure and privilege to work with and for.

We're a workplace that embraces failure as the most potent form of learning!
Compensation:
Compensation is $17.50+ / hour depending on skills and experience.
How to apply:
Please send a resume, cover letter, and any relevant links via this form: https://bit.ly/2UFxnNS
Note: We also strive to maintain a diverse and inclusive workplace and encourage applications from all qualified candidates, including women, visible minorities, aboriginal peoples and disabled persons. You are welcome to self-identify in your application.