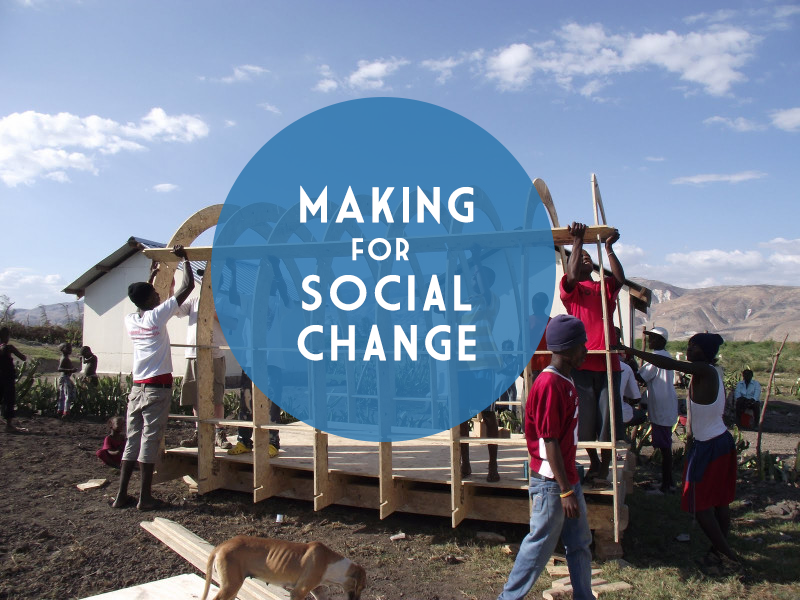 Making for Social Change
People make for all kinds of reasons – to prototype products, create artworks, tinker with technology, or to be part of a community. Another reason to make, is to add something good to the world.
Here are 5 incredible things Makers are doing right now to improve the world:
1. Building shelters for the homeless
Homelessness is a serious issue in many countries around the world, but Makers are coming together to do something about it. Shelter 2.0 has designed easily built, affordable homes with parts fabricated on CNC machines. At the beginning they gave homes away, but then they came up with a new model: create factories in developing countries and train the locals to build homes based on their models. They're hard at work making it happen. And there are other Makers building homes for the homeless throughout North America too: there's a man building tiny homes for the homeless in L.A. and recently an village of tiny homes has been built for the chronically homeless in the N.Y. town of Newfield.
3D printed prosthetics are drastically cheaper to build than regular prosthetics. The e-NABLE network co-ordinates volunteers from all over the world who build 3D printed prosthetic hands for kids in developing nations. All their designs are available for free and they also offer a limited number of already printed kits that simply need to be assembled. Other 3D printed prosthetics are not far behind!
The very first accessibility hackathon was held in Washington, D.C. in 2011. Since then there have been accessibility hackathons in several cities throughout North America including Toronto and Calgary. These events bring together programmers, tinkerers and creative minds of all kinds to improve accessibility for disabled people in their cities or even the entire world. In Toronto a non-profit called StopGap organizes volunteers to build ramps for local organizations.
4. Teaching women and children to code
The STEM fields (science, tech, engineering & maths) suffers from a female-identified deficit. Women and girls are in the vast minority, and education programs are popping up left and right in an attempt to do something about it. Our friends and fellow members of the Toronto Hive Network, Ladies Learning Code started with a single workshop and has now taught thousands of women and children from across the country how to code. They currently run programs in over 20 different cities and are running an IndieGogo campaign to fund the Code Mobile, a van that will go to communities of all shapes and sizes throughout Canada, teaching kids how to code.
5. 3D Printing medical supplies
Toronto local JulieLynn Wong is a doctor who saw the enormous potential in 3D printing. Her organization, 3D4MD, designs 3D printable medical tools and devices and trains people to build their own using the same technology. She provides her designs for free to healthcare professionals and is actively working to expand their library of 3D printable objects.
What STEAMLabs is doing to change the world
At STEAMLabs we believe the best way to change the world is to empower the people with the knowledge and tools they need to make their own lives. Our Internet of Things Teaching Kit is just our first step towards bringing Maker Education directly into schools and we've already run several successful programs for kids, changing hundreds of lives. With STEAMLabs opening to adults in a few short weeks and co-founder Andy Forest traveling the world to show people the power of Maker Education, we're working hard to give everyone the tools to change the world.
Do you want to help us change the world? Sign up for our membership exchange program today!