Installing Minecraft Mods – Kids and Parents Guide
One of the best things about Minecraft is how easy it is to modify the core functionality of the game. Anyone can do this, and publish their "mods" for others to install. At our Minecraft Pro camp, we even taught the kids to make their own mods with MCreator.
Add superhero costumes and abilities, custom blocks and recipes, program your own NPCs and more!
One of the most frequent questions that kids and parents ask is how can they install mods on their computers at home. It's a fairly easy process, but there are a number of steps. So here's our guide to installing Minecraft Mods!
Find Mods
There are a lot of mods out there, and a lot of websites where you can download them from. Some are riddled with advertising that will infect your computer. To avoid this, get your mods from one of these sites that we trust:
Once you find the mod you want, make a note of what version of Minecraft it supports.  Every mod works with a specific version of Minecraft. Mod makers are usually a few versions behind the latest version of Minecraft. We'll need the version number for a next step.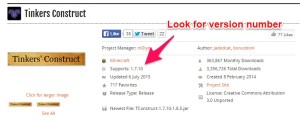 Next, download the mod. Note that many downloaders use "AdFly", which frequently displays deceptive ads that look like your download, but aren't. Click on the "Skip Ad" button in the upper right corner to bypass the ad and get your mod.
Note that your downloaded mod should be a .JAR file or a .ZIP file. If it is any other kind of file, such as an .EXE executable file, don't install it, it could be packaged with adware.
Install Forge
Before you can install any mods, you have to first install Forge, a system for managing them.
There is a specific version of forge for each version of Minecraft. Download the version needed for your mod. You can install lots of different mods, but only one version of forge, so all the mods have to support the same version.
Run the Forge installer, and leave it on the default option to install the Client version.
To complete the installation, you need to run Minecraft once after you have installed Forge. When run the first time, it downloads and sets up some further files. Make sure you select the "Forge" profile and then click play.

Install Your Mod
Now it's time to put the Mod .JAR file that you downloaded earlier into Forge's Mod directory. First, find the file on your system. If you are using the Chrome web browser, click on the little arrow next to your downloaded JAR file, and select "Show in Folder".

Next, press Ctrl-C to copy the Mod.
Now, we open the Minecraft file directory on your computer. It's in a different place in every version of Windows and Mac. The easiest way to find it is to use Minecraft itself to show you. Go back to the Minecraft launcher, and click on the "Launch Options" button:

Then select the "Forge" profile: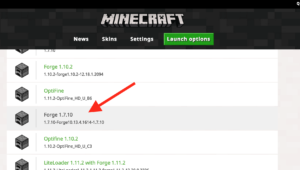 Then click the small green arrow button: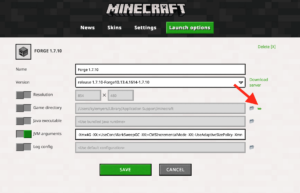 This will open up the minecraft folder on your computer. From there, go in to your "Mods" directory.
Press Ctrl-V to paste the mod you copied earlier into your mods directory.
Quit Minecraft and restart it to load in your new mod. Enjoy your new functionality!
When you connect to a multiplayer server, you usually have to use the latest version of Minecraft, and some mods are prevented. To quickly switch versions, on the loader screen, select your original profile, not the Forge profile.