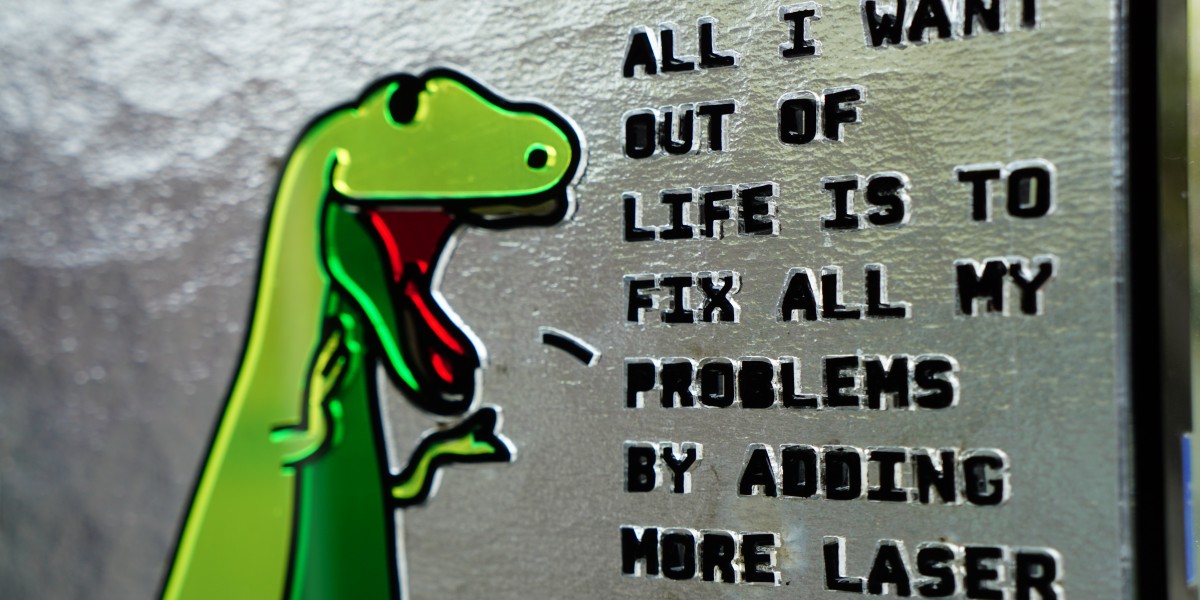 Dinosaurs and Lasers!
What could be better than dinosaurs? Dinosaurs made with lasers, of course! We've been working on a project with our friend Ryan North, author of Dinosaur Comics to bring you just that!
This is now one of the options in our Kickstarter for the $125 Limited Edition Laser Cut Mosaic Artwork. Our Kickstarter is over soon, so get one before May 8th! The best part is that you can pick out your favourite Dinosaur Comics phrases or we'll custom-make one of your very own! This art piece is 20cm x 20cm (8″ x 8″), securely made from 3 layers of 3mm acrylic.
We also have a lower cost option – a mini laser cut Dinosaur Comics mosaic! This 7cm x 5cm two colour mosaic will have Ryan's choice of awesome Dinosaur Comic text. At only $10, how can you not have one!? Choose the Laser cut keychain fob, or one of the packs that include it: $50 For-the-love-of-all-things-STEAMLabs or the $100 Ultimate Maker Package.
To make this customized art piece, 13-year old design team member Téa Forest developed a mosaic design based on the comic, and prepared illustrator files for cutting. An interlocking frame with tabs to secure all the pieces was developed. Next, we used the laser cutter to slice up the mosaic pieces from 7 different colours of acrylic. A big thanks to Design Team member Matthew Potter for his mastery of the laser cutter!
After every tiny letter was put in to place and glue was tacked on to hold it together, the final product was ready to hang in a window! Support our Kickstarter, and get one as a reward for only $125 Canadian! (That's about $104 USD for our American friends). You choose the text, or search the huge archive of Dinosaur Comics for something fitting! Soon you too will have your very own dinosaur lighting up your house with shining words of wisdom.