Project In Progress (PIP) is a humble open house social night where attendees hear from Toronto's creative types about what's keeping them up at night. We curate a handful of speakers to talk for 3-5 minutes each on their project, and all you have to do is sit back, have a drink, and cheer them on.
When | Thursday July 20th, 2017 | 630pm – 9pm
Where | STEAMLabs Makerspace | 192 Spadina
How Much | Tickets | $7 advance | $10 door
Why | Maker Festival's Month of Making
Projects can be anything from robots, to businesses, to artwork, to events. It could be an idea, a scheme, prototyped, almost there, stuck, failed, abandoned, anything but finished.

Toronto is jam-packed with creative people working on kick-butt projects that are often out of sight, gathering dust, or just need that one thing to get them going again. This is an opportunity to bare them to the world (or at least, a small crowd of supporters) in the spirit of spurring on your project, or at the least, your creative aspirations.
Contributors talk about their project for up to 5 minutes and answer a few crowd questions. Talks are kept short to allow for maximum chit-chatting and connecting afterwards.​
As part of Maker Festival's Month of Making we will be hosting a Project in Progress on Thursday July 20th, 2017 from 630pm – 9pm.
Prospective themes include:
Making for Entertainment (puppetry, props, interactive/immersive installations, escape rooms)
Local/Niche Making (making things locally and/or that supply a niche demand)
Retro/Non-digital Making (making things offline)
Human/Machine overlap & interfaces (chatbots, biohacking, neural networks/AI, neurodiversity, user interfaces, computer vision, generative art etc)
Meta-making (making infrastructure to support making – maker spaces, networks, software, communities, machines etc.)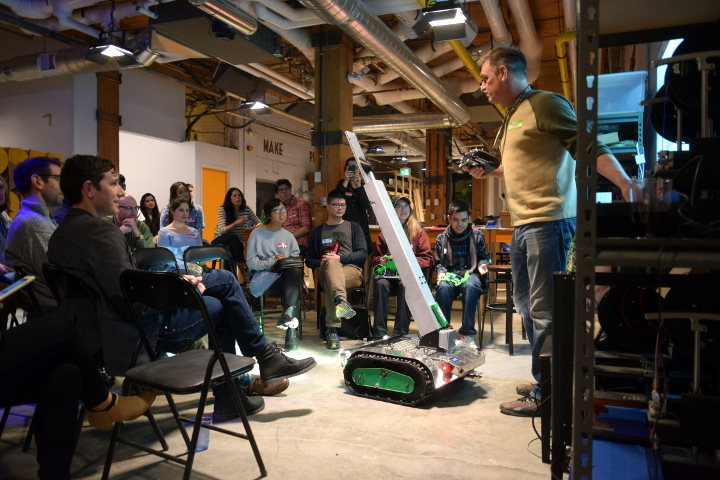 ---
Past contributors include:
Natalie Draz is an cross-disciplinary artist who makes large-scale story-based fold-out artwork using paper, textiles, and other fibres she can find. Investigating the structures of books, maps and anatomical studies, Natalie creates works that immerse the viewer. She'll be sharing her Alice in Wonderland inspired fold out tunnel book.
Sarah Friend is the production manager and senior designer at Guild Eyewear, as well as the Founder of Small Talk, an Interdisciplinary Lecture Series. Her current research interests include: abstract and educational games, sustainable manufacturing tech, and issues surrounding cryptography and net neutrality. Twitter: @isthisanart
Nadine Lessio, Alex Leitch & Yifat Shaik of The Grove Collective are working on The Bloom – an interactive puzzle art installation where players "water" large motion-controllable robot flowers and by doing so rejuvenating the gallery environment with lights, music and color.
Jonathon Moneta is the Founder and Creative Director of MakeLab who specialize in producing undiscovered activations for remarkable events.
Nadim Michaty (aka AKid Withabeard) is a larper, cardboard construction expert, and maker of awesome costumery & weaponry. He'll be showing of his gigantic mechanical crow wings that have been years in the making!​
Onome Igharoro is the co-founder of Robot Playtime – an educational robot toy that teaches basic programming to kids and integrates with any smartphone. Himself and Alex Hong are powering through the early stages of their start up, have confirmed a market demand, and are now looking to scale.
Andrew Lamb is a multi-disciplinary artist and puppet designer/mechanic living in Toronto, Canada. His practice often involves large scale theatrics and a childlike/childish imagination. His latest creation, the Wendiceratops, was commissioned by the ROM and was last seen stomping the ground of the Toronto Reference Library for Maker Festival.
Eric Boyd is the president of HackLab.TO, and founder of Sensebridge – a wearable electronics company that makes the 'invisible visible'. Products include Heart Spark, a necklace that flashes to the beat of the wearers heart, and NorthPaw, an anklet that let's the wearer know at all times, which way is north.
Chris Caira spent 4 years at McKinsey & Company, advising Fortune 100 clients on strategy and operations. Today, he is leading a team that's bringing the FabCafe concept to Toronto; FabCafe's mission is to provide an open, creative platform to inspire everyone to make something, and to connect that community with innovative organizations.
David Hamilton is a freelance technology writer, community organizer and entrepreneur who missed the energy of working at an office, and as a result, just recently launched Toronto's newest co-working space for digital and creative professionals in Toronto.
Erin Kennedy is a Roboticist, Developer & fellow at Studio[Y] who is working on "Rapidly Deployable Automation System" – a ROBOT that goes on community driven environmental missions.
Sibling misfits Karen & Amos Shaw are working on The Next Super Geek tv show in collaboration with a major Canadian Broadcaster – which puts (proudly) geeky youngsters through brain and gut busting challenges (think robot battles, making the *perfect* slime, or using drones to solve secret codes)!!!
Onome & Jordy of Robot Playtime are developing a robot to help kids, and adults, learn the fundamentals of robotics and programming.
Hugh Elliott is a developer-come-creative-technologist who is working on an Arduino-controlled 2-axis plotter using laser cut and 3D printed parts.
---
Would you like to contribute and share your Project In Progress? Please don't hesitate to fill in the form below with your details and we'll be in touch!
Here's the blog from our kick-off Project In Progress event.
Got questions? Email ceda@steamlabs.ca
This event is a collaboration between STEAMLabs & Maker Festival.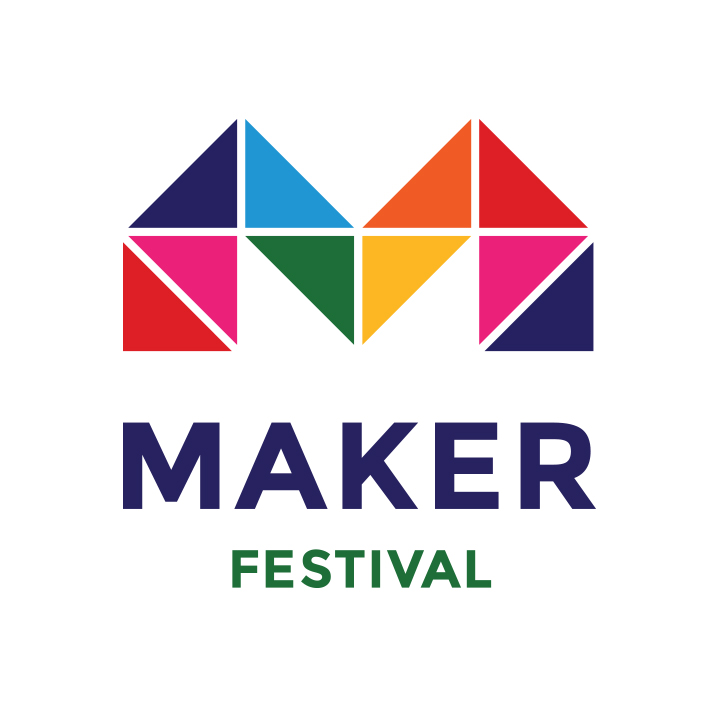 Would you like to contribute and share your Project In Progress? Fill out this expression of interest form and we'll get back to you!