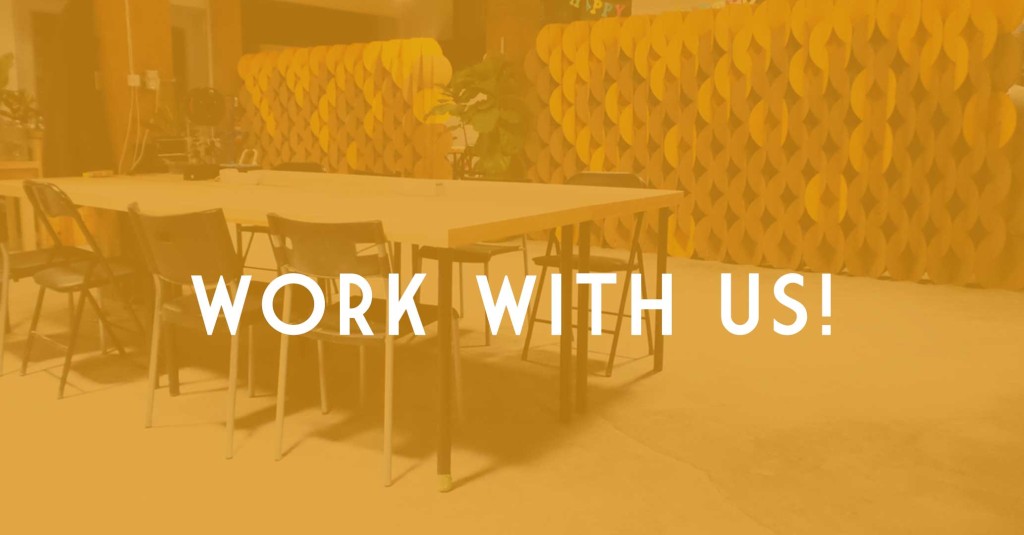 ---
Adult Maker Education Specialist
STEAMLabs is looking for a full time Adult Maker Education Specialist to join our team! Hours are flexible, starting at about 30 hours per week, and ramping up to full time by the summer. Your hours will include at least two evenings and one weekend day per week.
Compensation is by salary of $20 to $26 per hour, depending on your skills and experience.
About STEAMLabs
STEAMLabs is a community makerspace, where people of all ages and abilities come together for access to high tech tools, to learn, and to make. Our 3000 sq ft facility in the heart of downtown Toronto is where members & students engage in physical and digital making, gain a sense of technological agency, and develop their creative confidence. We run workshops, multi-week programs, school visits and summer camps for kids and adults in our space. Independent makers have memberships to use our space for their own projects as they need. We also teach maker education to other teachers all over the world.
Job Description
Your passion is to help adult students develop creative, technical and personal skills through hands-on interest-lead learning. You've gained meaningful knowledge and experience in teaching, mentoring and/or facilitating in hands-on environments. You're not necessarily a traditionally educated teacher – no teaching certificate is required. You celebrate failures, are comfortable in controlled chaos, and value the process over the product.
You are a creative and energetic person who likes working with adults and teens, and enjoys enabling their weird and wonderful ideas come to life. You have experience working in an experiential and active environment such as a design company, personal art practice or otherwise. You're organized, flexible, and interested in growing your own learning and teaching practice.
Your job will be to lead STEAMLabs workshops, maker boot camps, (drop in) open makes, and other events. Your audience will primarily be adults and teens, but may include kids at times as well. Other tasks will support this role, such as developing new activities and classes, documentation and training volunteers and other staff. The topics you will be covering as a teacher are a mixture of physical and digital, and will include some of this list:
3D printing & laser cutting

Arduino

Electronics

Basic woodworking

Video game programming with Scratch

HTML, Javascript and other coding

Minecraft
Note that we do not require you to know all of these technologies already! The core technical skill required is coding of some kind, and experience in one form of the physical making and/or art. Your coding experience can be in any environment, but bonus points for Arduino, HTML, Javascript or Scratch. Your physical making or art can be anything that you create!
Work hours are flexible, but availability must include at least two weekday evening shifts from 4:00 to 10 PM, and one weekend day. You will also be occasionally required at some other weekend events. You will work at our makerspace located at 192 Spadina within the Centre for Social Innovation building, and some off-site work will also be required (e.g. client organizations or events).
Principal Responsibilities:
Lead or assist with after workshops, events, full-day programs, and/or maker boot camps – at STEAMLabs, and/or offsite

Document your work – write lesson plans and activity guides

Maintain Makerspace materials, tools and equipment.

Collaborate with STEAMLabs staff and outside partners to develop maker education programming

Collaborate with us on developing the adult programs and identifying / hiring casual staff with specific technical expertise where necessary

Collaborate with the team to develop better processes and services

Complete other operational tasks that relate to your role (e.g. sourcing materials)

Train and supervise other staff and volunteers as needed

Collaborate with the team on periodic lab maintenance tasks like cleaning
Required Skills and Experience:
2 years experience working with adults in an experiential learning environment

Strong teaching skills and/or experience with public speaking

Experience with at least one form of hands-on making
Bonus Skills and Experience:
Experience developing/designing programs and activity plans

Experience with Coding such as Arduino, HTML, Javascript or Scratch

Knowledge of popular education, interest/project based learning, inquiry based learning, or other teaching philosophies.

Familiar with design software such as Adobe Illustrator or 3D design programs

More making skills!
Why work with us?
We're a small, agile team of friendly people with varied skills and experiences.

We're a relatively new organization, so there are still lots of ways to contribute to it's shaping!

There is plenty of opportunity to learn, grow and try new things.

The STEAMLabs Community (members, volunteers, program participants and otherwise) are awesome, and a pleasure and privilege to work with and for.

We're a workplace that embraces failure as the most potent form of learning!

We're part of the Center for Social Innovation
We're partners with the Toronto Tool Library – which means you get a free membership as an employee
How to apply:
Please send a resume, cover letter, and any relevant links to info@steamlabs.ca with "Adult Maker Education Specialist" as the subject line before Sunday 22nd January, 2017 at 5pm.
Note: We also strive to maintain a diverse and inclusive workplace and encourage applications from all qualified candidates, including women, visible minorities, aboriginal peoples and disabled persons. You are welcome to self-identify in your application.