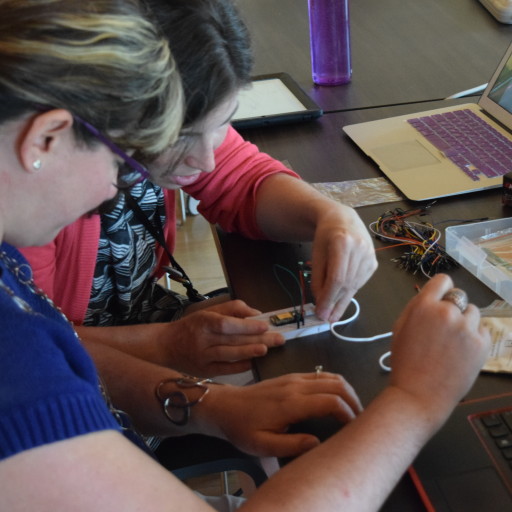 At STEAMLabs we believe it's never too late to become an inventor. In today's fast paced society too many adults have lost touch with their creativity. Many of these adults believe they simply aren't creative.
Here at STEAMLabs we know that isn't true. Some people may be more creative than others, but we believe this is because they've worked hard to develop their creative skills, not because of some inherent ability. Their true "talent" lies in their dedication to developing their creativity and mastering their craft. Many people stop nurturing their creative side when they reach adulthood because creativity isn't seen as "practical". The truly spectacular artists and inventors are the ones who never stopped pursuing their creative dreams.
We believe everybody, no matter what stage of life they're in, can tap into their creative potential to become an artist and an inventor.
Based on these beliefs, we've created a number of programs for adults. Much like our programs for youth, our adult programs focus on combining creativity with technology. Our adult participants typically arrive believing they are completely 'ordinary' people with an interest in technology. They leave thinking of themselves as inventors, with new confidence in their creative skills.
This confidence has a profound impact on every aspect of their lives. STEAMLabs students don't just walk away with a creation, they walk away with an entirely new self-image.
Fall Programs
Maker 101 Workshops — New to the Maker world? We'll teach you basic skills with classes such as Laser Cutting 101, Programming 101 and Woodworking 101. Each Maker 101 workshop is 2 hours long and 100% hands on, centered around a mini-project.
Maker Boot Camp — At the beginning of this 8-week course we'll help you develop an idea and spend the next several weeks teaching you everything you need to know to create that project. You'll have the chance to learn 3D design and printing skills, laser cutting, sewing, programming, woodworking and even robotics.
Maker Skills Upgrade — Want to upgrade your skills? We're working to provide a series of workshops where you can improve your skills in programming, woodworking and more. Details coming soon!
Educator Training — We'll be helping teachers understand tech in a way that makes it easy to teach. More details coming soon!