Become a Program Mentor with STEAMLabs this Spring!
Help us bring technology and hands-on making to kids.
We're looking for program mentors with availability to support staff in the delivery of our ongoing youth programs at our downtown makerspace in Toronto.
We enable kids to make their wildest project ideas come true using our high tech machines (3D printers & laser cutters), electronics, woodworking tools, and more.
Our current openings for program mentors are for the following programs (click below to read the program descriptions and upcoming dates):
Imagineering | Saturdays & Sundays (6-9 year olds)
9:30-12:30pm shifts available
Inventioneering | Saturdays & Sundays (9-12 year olds)
12:30-4:30pm shifts available
Field Trips, PA Days & Daytime Workshops | Various dates
Pending booking and availability, we have one off workshops we deliver to students and require mentors for one-off occasions from time to time
9-4pm for PA Day shifts and full day workshops
10-1pm for standard 3-hour Field Trips
If you are interested in being additionally considered for one-off events from time to time, please write in your general availability for Spring in your application notes.
Note: We aim to reach at least a 1:5 mentor to participant ratio in all of our programs. In anticipation of our programs filling up, we will recruit enough mentor spots to maintain this ratio. However, some programs may end up being cancelled due to low sign ups and we will notify you in these cases if this occurs.
The only prerequisite for volunteering is that you love helping kids bring their weird and wonderful ideas to life.
Bonus points if:
you've worked with kids before
you have experience making things (anything! cakes, sweaters, robots)
you have any technical skills (sewing, electronics, woodworking, 3D printing, illustrator, laser cutting etc.)
you have knowledge or experience in business development, marketing, and entrepreneurship  (for Zero to Startup mentors only)
We ask volunteers to arrive between 30-60 minutes prior to class, depending on the set up and briefing required. We also ask that volunteers stay to assist with pack up and participate in a debrief.
If you're ready to apply please use the online form below and we'll get back to you as soon as possible after the deadline!
Deadline to apply to be a mentor for ongoing programs is April 23rd.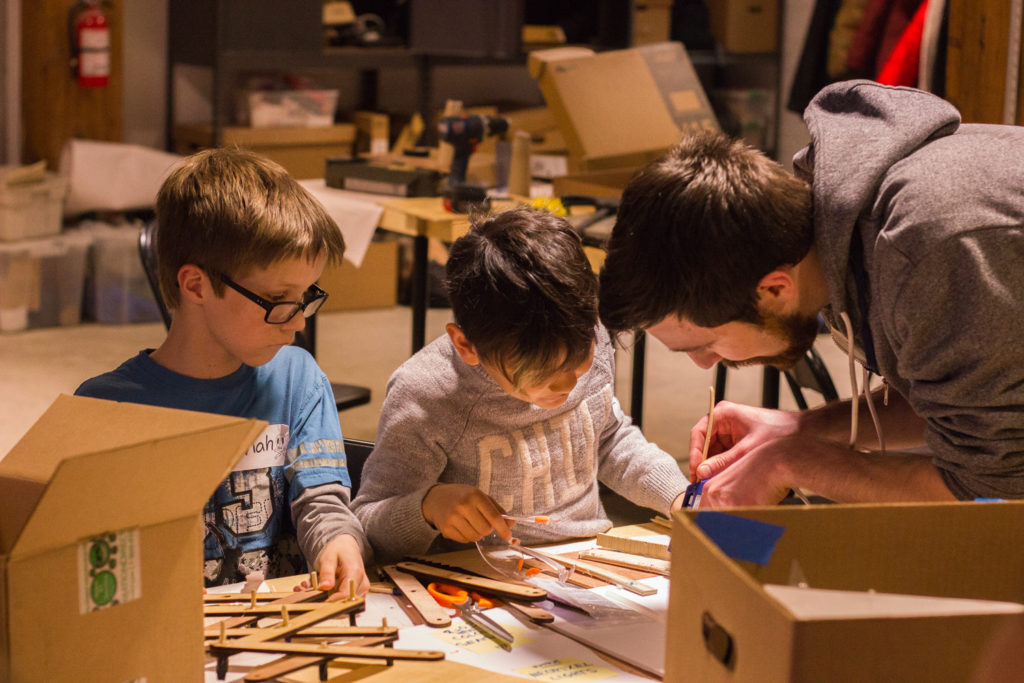 Apply to be an Ongoing Program Mentor
In exchange for your time in our programs…
We offer you all the perks of a membership, including access to space and tools. On top of that, you'll receive free tool training, get behind the scenes experience running a makerspace, and be super-connected to the community as a representative of STEAMLabs.
Applicants who apply to become a mentor for our upcoming programs must be available to attend two training sessions prior to the start of our programs. We will provide free tool training and brief you on our upcoming programs. In some circumstances, we may be able to schedule another training session, but preference is given to those who are able to make our training sessions and at least cover the program material (saving tool training for another available time).
General Training dates for Spring Programs:
Tuesday, May 8, 2018 (evening, 3 hours) at STEAMLabs (192 Spadina)
-and-
Wednesday, May 9, 2018 (afternoon or evening, 3 hours) at STEAMLabs (192 Spadina)
Final times to be confirmed closer to date