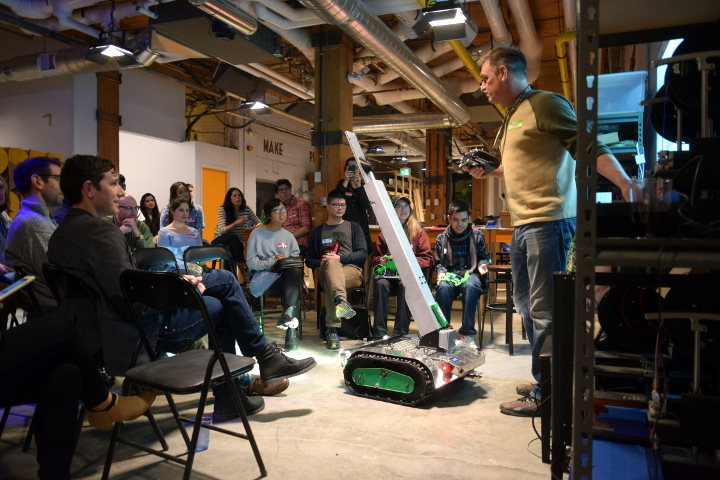 Toronto's Creative Types share their Projects In Progress at Maker Space Open House
ProjectInProgress is a humble open-house-come-social-night where attendees hear from Toronto's creative types about what's keeping them up at night. We curate a handful of speakers to talk for 3-5 minutes each on their project, and all you have to do is sit back, have a drink, and cheer them on.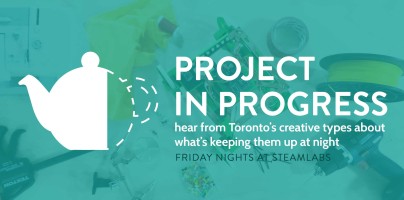 Projects can be anything from robots, to businesses, to artwork, to events, we don't care what it is – so long as it's still in progress. It could be an idea, a scheme, prototyped, almost there, stuck, supposedly failed, abandoned, anything but finished.

Toronto is jam-packed with creative people working on kick-butt projects that are often out of sight, gathering dust, or just need that one thing to get them going again. This is an opportunity to bare them to the world (or at least, a small crowd of supporters) in the sentiment of spurring your project on, and maybe even, making it a bit more awesome than it otherwise would have been. 
The first ever PIP went down a treat this January with 40 attendees congregating in the new space to hear from 6 speakers. Here's the round up:
Hugh Elliott and the 2-Axis Plotter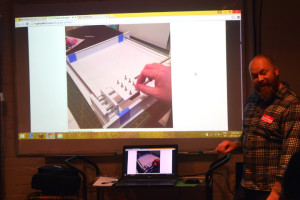 A 2-axis plotter is kind of like a specialized printer for images. Maker Hugh Elliott has put quite a bit of time into creating this one using laser cut and 3D printed parts. The plotter is actually controlled by an Arduino controller and the machine has a 400×400 millimeter bed, allowing it to make excellent medium-sized designs.
This epic Arduino plotter is only one of many interesting projects Hugh is working on. You can discover all his cool projects, both personal and professional, at http://hughqelliott.com/blog/.
David Hamilton Introduces Lab TO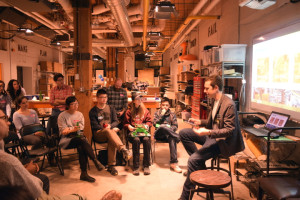 David Hamilton is a freelance tech writer who has worked in just about every kind of office imaginable, from a high pressure news office to a home office to coworking spaces like the Centre for Social Innovation. He consistently ran into a few issues: he needed a social, collaborative atmosphere, but he wanted something close to home in Toronto's west end and a smaller environment that made it easy for everyone in the space to get to know each other. So he created his own coworking space, Lab TO, in Toronto's Junction neighbourhood.
Opened just a couple weeks ago, Lab TO is Toronto's newest coworking space and one of the first west end spaces to exist. You can find out more about it here.
Onome & Jordy Share Dexter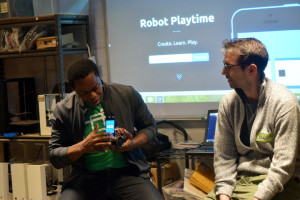 Robots are cool. Toys are cool. Robotic toys are even more cool, especially when they're designed to teach kids how to program. Dexter is a mobile companion you can load onto your phone or tablet. He starts off knowing nothing about the world and you get to program intelligence, emotions and behaviours into him.
Dexter is just one aspect of this dynamic duo's company, Robot Playtime, which aims to educate kids about programming using fun robotic toys. They also plan to run workshops in schools, Makerspaces and anywhere else there is demand. Find out more about what they're planning at http://robotplaytime.com/.
Karen & Amos Shaw Present The Next Supergeek!
Geek used to be a mean name to call someone but the explosion of technology in recent years has transformed the word geek into a pretty high compliment. Now these brave siblings are scouring the country for Canada's geekiest kids. Each week they'll be giving kids an epic challenge and the winner receives the awesome title of Supergeek!
The show is currently in development with CBC kids and they are looking for the Canada's geekiest 8-12 year old kids to participate in this awesome program. If you know a geeky kid–or you just want to know when this show comes out–check out the casting call at http://thenextsupergeek.com/.
Erin Kennedy's Robot Mission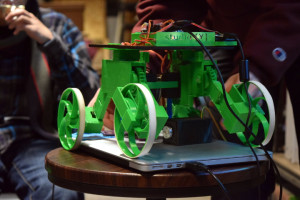 Erin Kennedy is a member of the volunteer exchange program here at STEAMLabs, a Studio Y fellow over at MaRS and the creator of Robot Missions, a site dedicated to connecting Makers with humanitarians and encouraging collaboration. After all, these groups can accomplish more together than they can on their own.
This past Friday she showed us the first robot going on Robot Missions, a scavenger robot designed to clear debris away from beaches and parks. It's still in testing but this robot has already been on its first mission, cleaning away the trash on a beach in Kingston. We can't wait to see what it does next!
Tim Allan & The Mighty Big Robot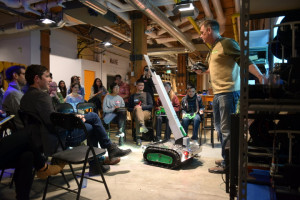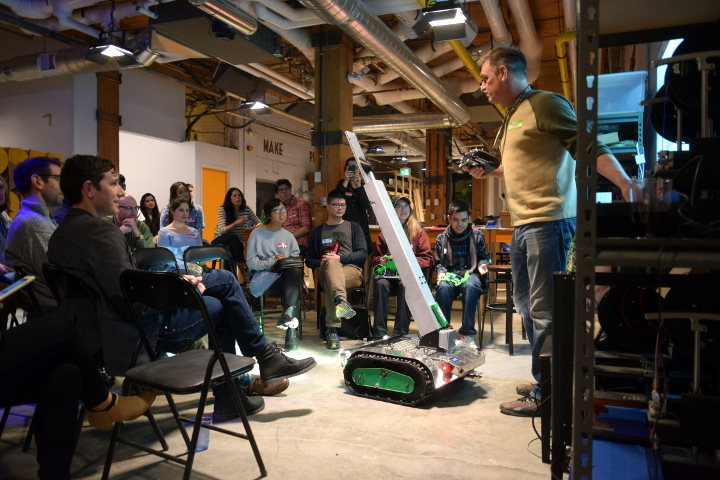 A new member of the STEAMLabs community, Tim Allan came by to share his roving robot which stands well over 5 feet tall and moves smoothly across any floor with tracks.
Inspired by an episode of The Big Bang Theory, this robot is designed to autonomously carry a mobile device such as a tablet to various locations. There's still some work to be done before the robot is fully autonomous, but it's already one of the most impressive creations that's come through STEAMLabs so far.
Want to see more awesome projects like this? Working on something cool you'd like to share with Toronto's Maker community? We'll be hosting Projects In Progress every Friday night! Find out more here.