Check out these epic Minecraft projects!
Kids make some incredible things at STEAMLabs camps. Here are some of the awesome projects our Minecraft Pros have been working on!
The Imperial City
One of the awesome things about Minecraft is how many different maps people have created. For this week of camp we decided to start with an imperial city map created by an awesome team of French programmers. Our goal? To transform this imperial city into an epic game with its own characters, quests and rewards.
A World of Superheroes

Every kid loves superheroes, and our Minecraft Pros are no exception! They decided early on to populate their city with superheroes using a popular mod called–believe it or not–"the superhero mod".
This mod allows lets you transform your character into any superhero of your choice. The mod has separate panels for Marvel and DC. Each superhero outfit comes with its own perks.  The Flash moves faster than your normal character. Spiderman jumps higher–and yes, he does shoot webs.
Custom NPCs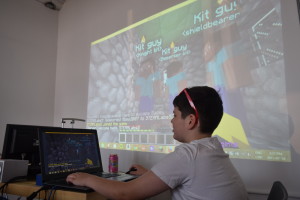 Non-player characters are essential to any game. They bring the world to life with interesting back story, cool items and awesome quests.
Luckily we didn't have to build our NPCs entirely from scratch. Instead, we downloaded a "Custom NPCs" mod, which makes it easy for you to create your own NPCs in the Minecraft world. This allowed kids to make all kinds of cool NPCs: army guys, police officers, bankers and even super villains.
Of course, NPCs aren't very exciting if they don't do anything. The Custom NPCs mod allowed kids to not only decide how the NPCs look, but to create their own dialogue boxes and even entire quests. One of the most interesting quests created during the week was a prisoner transfer, requiring the player to first acquire some papers and then to guard the prisoner while they're being transported.
Wayne's Manor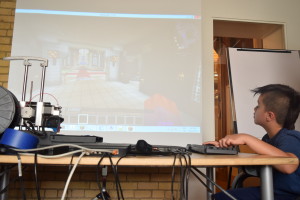 A world full of superheroes isn't complete without Batman, and it's certainly not complete without Wayne's Manor. The kids chose one of the largest buildings in the Imperial City and started building up the interior to resemble Wayne's Manor, even building a bat cave with a secret entrance. And of course, Wayne's Manor isn't complete without Alfred.
Wayne's Manor also became a hangout spot for many of the NPCs created last week, with super heroes milling around the house itself and the garden.
Harley Quinn
While we're on the subject of Batman, let's talk about one of Batman's greatest villains: Harley Quinn, nurse-gone-insane and long time lover of the Joker. After all, what's the point of populating our world with super heroes if there aren't any super villains for them to fight?
You find Nightwing–created with help from the Custom NPCs Mod–hanging around Wayne's Manor and he tells you some frightening news: Harley Quinn has found her way to the Imperial City! We can't have her hanging around, so Nightwing sends you on a quest to find and defeat her.
It only takes a few moments to find Harley Quinn and a couple more to win the fight. Once she's defeated, she drops some pretty cool stuff: a golden apple and some cash.
The Joker's Lair
After all the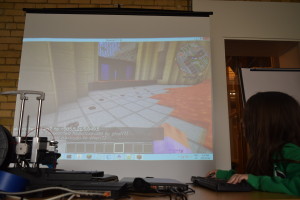 work they put into Wayne's Manor, it only made sense to create a lair for the Joker as well. So the kids chose another large building–at a safe distance from Wayne's Manor, of course–and turned it into the perfect hideout for an evil villain, full of lava and other fun but deadly things.
One kid took charge of the Joker's lair and added a small cage. He stuck a police officer in the cage (wearing a diamond helmet because it's important to put safety first). When you find the police officer he tells you the Joker has taken the key with him. He asks you to find the Joker, defeat him and come back to free him.
Bloody footsteps on the floor lead you out of the building and through much of the Imperial City. At last, you find him on top of a burning building.
The Joker is one of the toughest bosses the kids created, which only makes it more awesome when you finally beat him.
Hangout Spots for NPCs
Follow a secret path and go through a hidden door and you'll end up in Hitman Haven, a cavern filled with every kind of villain imaginable.
Some of the kids also came together to create a military base, where you'll find more than a dozen soldiers milling around. A few of the soldiers can even be hired to help you on various quests.
Making Mods
One of the most exciting things about Minecraft Pro is that kids learn how to make their own mods. A mod can be anything, from something small that alters the appearance of one thing in the game to something massive that allows you to spawn dozens of new creatures.
Our campers made two new mods this week. The first mod made dirt explode when it's attacked. The second mod increased the size of explosions caused by TNT. These two mods transformed our Imperial City into something a lot more explosive.
Check out the video below to see some sweet explosions!

Real World Steve
Every camper created individual goals for this week of camp, but we also had a big group challenge for the campers to contribute to: making something in Minecraft that has an impact on the real world. So we decided to create a wooden version of Steve, the character you play as when you start playing Minecraft. One of the STEAMLabs teachers, Donn Pasiliao, started the robot to show the kids how it's done.
Once the kids saw the robot, it became their job to make him move. They played around a little bit with Computer Craft, an in-game programming interface, and learned how to connect a pressure plate by the end of the robot. By the end of the week, they had Steve's arm spinning in circles every time they stood in the right spot.
Want to see Steve in action? Check out the video below!
More to come
These are the most epic projects our campers created during the first week of Minecraft Pro camp, but they accomplished a lot more too. They learned the basics of 3D printing and brought some of their favourite in-game objects to life. They also learned a lot about themselves–how they work in a team, what they can accomplish in a week, why they like certain mods more than others. And they've also developed a new confidence in their skills. They've changed the world of Minecraft, and now they know they can change their own world too.
And these are only the things they accomplished in week one!
Do you want your kid to make epic stuff in Minecraft too? Enroll them in our second Minecraft Pro summer camp!